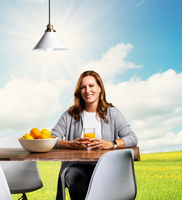 Smile more.
People respond to light, and amazingly the typical person spends 93 % of their time indoors. The trouble is — typical lights (bulbs and tubes) do not provide the light nutrition we need, and we can become slow, sluggish, even depressed.
Norb Lighting offers a better way of light. We specialize in wellness lighting and engineer lighting products that support the health and performance of both people and plants.
Brighten up your day with our best selling bulb, NorbSMILE.
Shop Sun-Spectrum™ Lights
Our Happy Customers
"My spouse struggles with sleep. Having light that you can read by and yet isn't overstimulating is important. This bulb puts out just enough light, but is warm enough to help make the transition from evening wind down to sleep easier. We haven't been using it long, but it's been working well for us. Thank you!"

William M.
"I recently purchased 2 of your SMILE bulbs and I LOVE THEM! Illinois winters are cloudy almost everyday. Instead of moving I purchased your bulbs and they have made such a difference for me. I now want more to put all around my house but Amazon says they are out. Please say you will be sending them more or where else can I buy them. They are wonderful. Thank you."

Cindy H.
"I got this green light to try for my Lyme's disease symptoms and I absolutely love it!! It helps my neuropathy, migraines and brain fog. I use it whenever I feel one of these symptoms coming on." 

Alexa R.
"Keeping Norb Focus lights in my lamps has made all the difference when I feel my focus slip. They have lights for everything I swear. Anxiety, focus, bugs, and even freaking migraines. I highly recommend checking out their website to get your hands on some!"

Emma Q.
"I bought the Norb Bug Lite and love it! Easily swapped it with the current bulb on my outdoor lights. The soft orange glow of the bulb is bright enough for outdoor lighting on our patio at night, without attracting bugs. My Mom keeps bees in our backyard and they are often found ramming into our outside lights at night. With these Bug Lites, there are no longer swarms of bugs on our outdoor lights on warm summer nights."

Sierra S.